Luxury rooms in Bariloche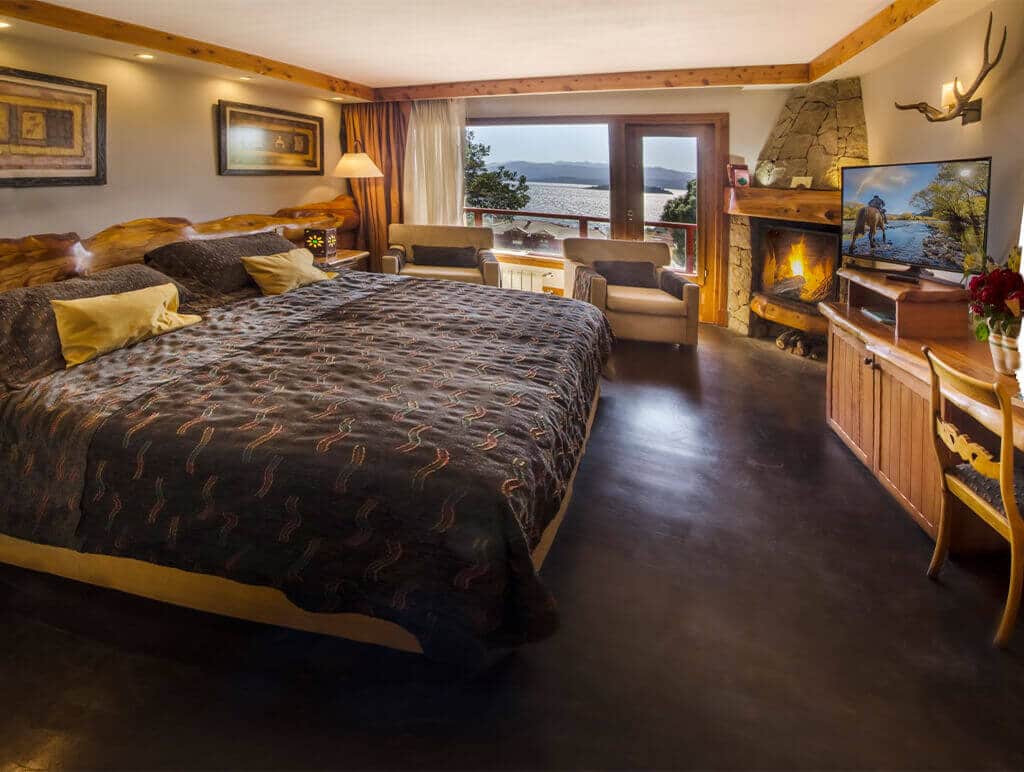 JUNIOR SUITE LAGO
35-40 squared metres (376-430 square feet) – Fits 2 guests
A third bed can be added for an additional price
Wide room with spectacular views of the lake
Double or single whirlpool baths with 8 normal and 2 cervical jets
You can enjoy the view of the lake and the fireplace simultaneously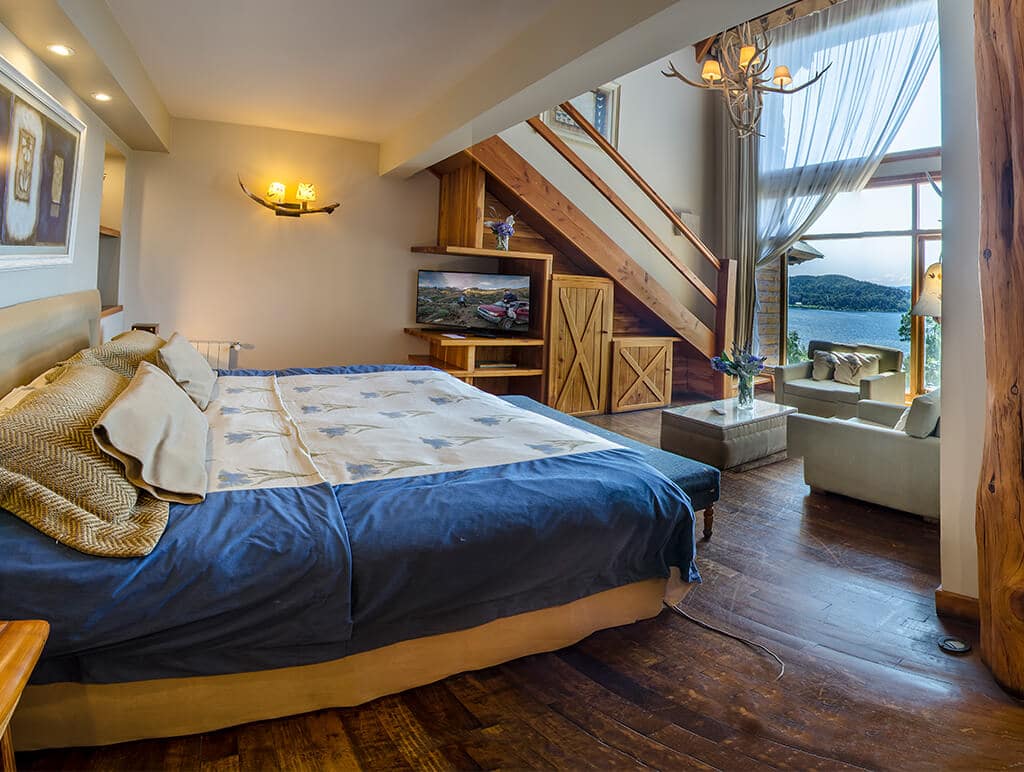 PANORAMIC SUITE
45-54 Squared metres (484-581 square feet) – Fits 2 guests
A third bed can be added for an additional price
Luxurious, wide and exclusive, this suite has huge panoramic windows and the most spectacular views of the lake
Large, circle whirlpool bath for two people with 10 normal and 4 cervical jets
You can enjoy the view of the lake and the fireplace simultaneously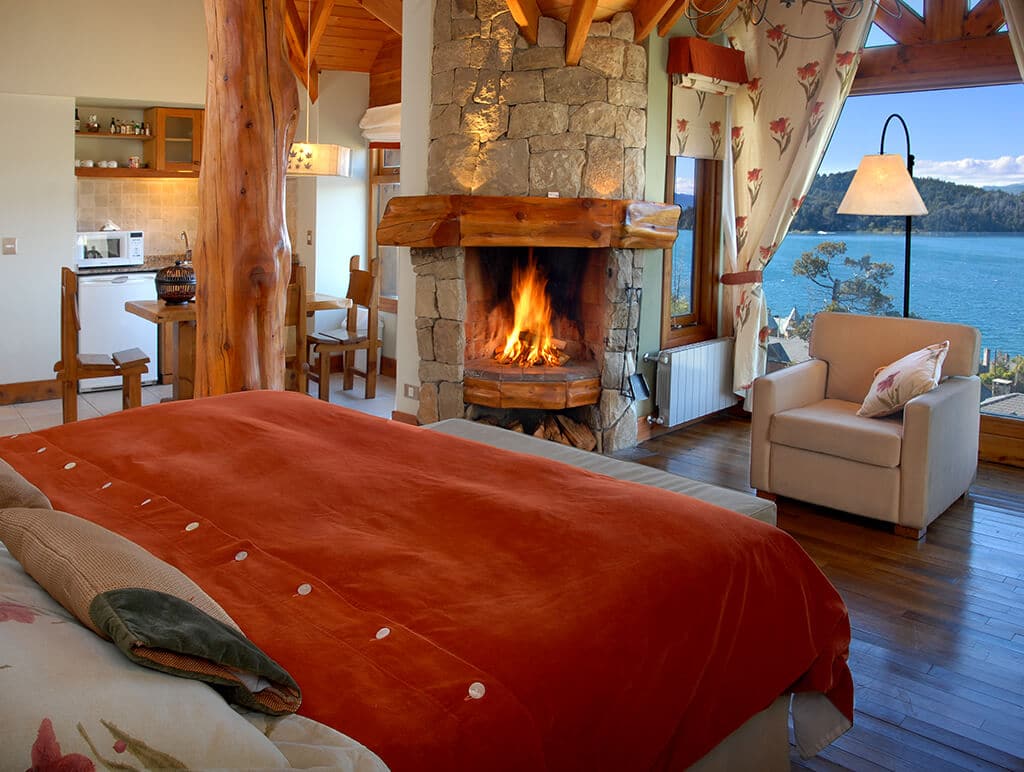 LAKE LODGE
48-53 square metres (516-570 Square feet) – Fits 2 guests
A third bed can be added for an additional price
Wide room with spectacular views of the lake
They all include an equipped kitchenette
Double or single whirlpool baths with 8 normal and 2 cervical jets
You can enjoy the view of the lake and the fireplace simultaneously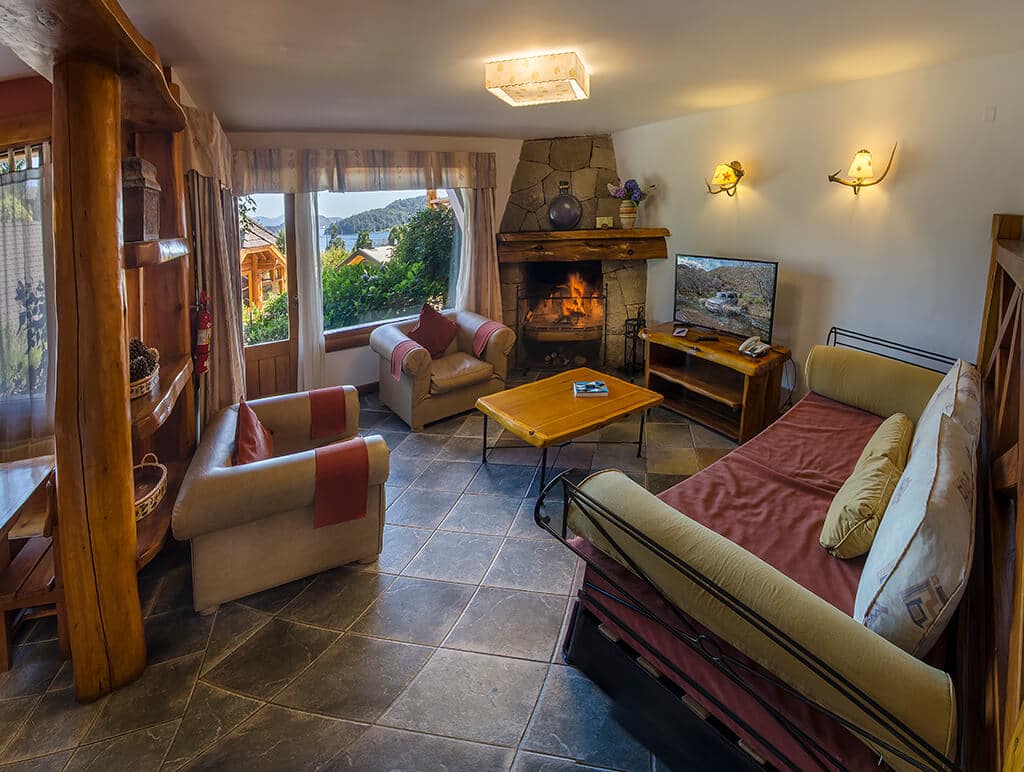 FAMILY GARDEN SUITE
62-70 square metres (667-753 square feet) – Can host up to 4 guests
Wide room with two separate spaces, with a kitchen and dining are for up to 5 people
Big living room area with a flat screen TV
Bathroom with whirlpool bath. The bathroom is divided into different spaces for more privacy, space and comfort
You can enjoy the view of the lake and the fireplace simultaneously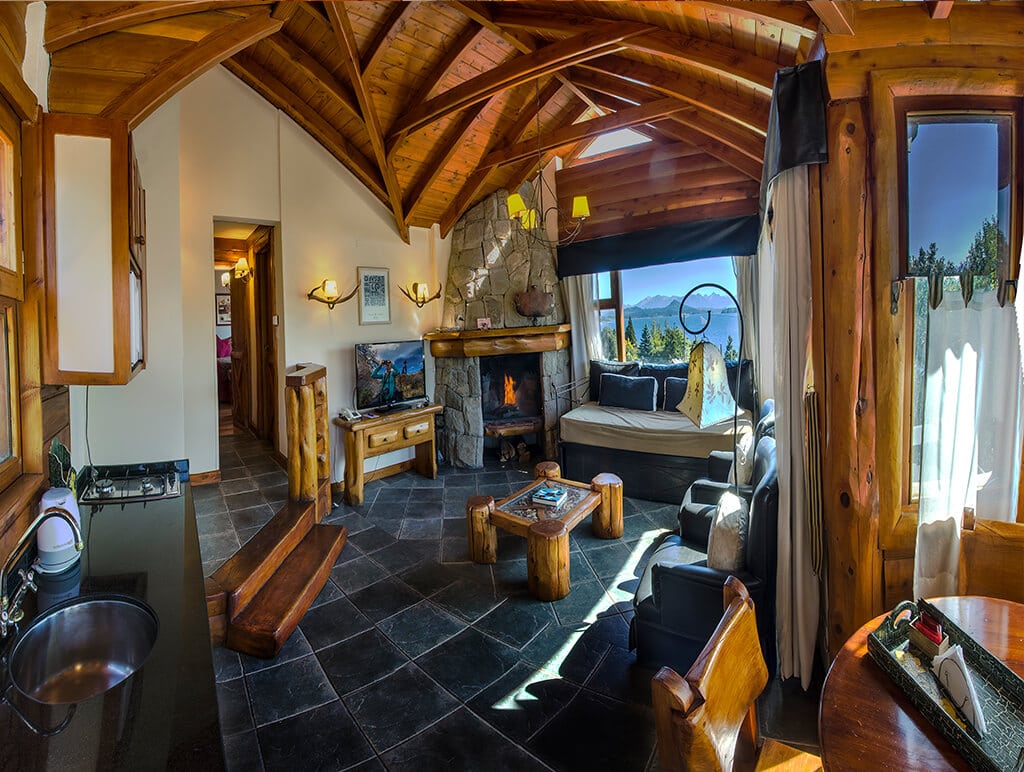 FAMILY LAKE SUITE
59-74 square metres (635-796 square feet) – Can host up to 4 people.
Spectacular view of the lake
Wide room made up of two separate spaces, including a kitchen and dining area that can fit up to 5 people.
You can enjoy the view of the lake and the fireplace simultaneously
The wide living room area includes a flat screen TV
Bathroom with whirlpool bath. The bathroom is divided into different spaces for more privacy, space and comfort ​
TWO-BEDROOM LAKE CABINS
85-94 square metres (915-1011 square feet)
Can host up to 6 people. Some can host a 7th guest for an additional price.
Spectacular views of the lake from the living room, the dining room and the Master Bedroom.
You can enjoy the view of the lake and the fireplace simultaneously
Wide cabin with 3 separate spaces, 2 complete bathrooms, a kitchen and a dining area for up to 6 or 7 people
2 bathrooms, one equipped with a whirlpool bath.
Wide living room with view of the lake. Flat screen TV and fireplace.